---
About Us
Why choose CAREER-Magic for Resume Writing, Job Search Coaching, and LinkedIn Tune-Ups?
Hi, I'm Tracy Laswell, founder of CAREER-Magic, an accomplished job search expert and resume writer based near Denver, Colorado, serving clients nationwide with individualized job search support, corporate outplacement services, and contract recruiting services. We offer 22+ years in business with thousands of satisfied individual and corporate clients. My qualifications are distinct from those of other resume writers and job search coaches, and enable me to help you get outstanding results in your job search.
Top 4 Reasons to work with Tracy at CAREER-Magic:
1. I am a job search expert with deep experience on both sides of the hiring equation.
I'm not just a certified resume writer, I also have worked as a corporate and contract r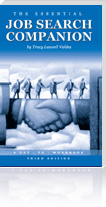 ecruiter, job search coach, and job search networking and workshop presenter. To help my clients succeed, I wrote The Essential Job Search Companion: A Get-to-Workbook, Updated 4th edition 2013 available now! I offer a wealth of expertise to facilitate your successful job search.
 2. I leverage the power of networking for my clients.
Networking is key to job search success. As creator of The Caffeinated Careers Club, one of Denver's most popular and longest-running job search networking events, I've met thousands of people in recent years who are ready, willing, and able to assist you in your networking efforts. Join us at http://www.meetup.com/Caffeinated-Careers-Club-CCC/
Additionally, I have built a very large LinkedIn network that I leverage to help my clients connect with their target organizations. I understand the power of social media in your job search – LinkedIn and platforms like it will be replacing resumes in the near future. Are you taking full advantage of social media? If not, I can help!
3. I have earned a great reputation for service and expertise:
with my clients. See 50+ first-person reviews on my LinkedIn profile www.linkedin.com/in/tracylaswell/)
among my peers. Call the Professional Association of Resume Writers –  727-821-2274). I've been a Certified Professional Resume Writer since 1995 (PARW.com).
within my community –Invited Speaker at The Smarter Job Search Workshop, The Colorado Technical Recruiters Network, LongsPeakNet, BoulderNet, Business Marketing Association, Rocky Mountain Association of Environmental Professionals, The Denver Entrepreneur Meetup,  The Denver Post-News Career Fair, Colorado Career & Job Expos, Careers Colorado Job Fairs, The Denver Layoff Lounge, The Urban League of Metropolitan Denver, Habitat for Humanity | Americorps, Golden Key National Honor Society, The American Society of Mechanical Engineers (ASME), Jefferson County Public Libraries, and the Arapahoe County 50+ Power Job Club.
4. And last but not least, I am 100% focused on getting you the results you want using a positive, pragmatic, powerful approach. Call me today, I'd love to learn about you and your career goals! 303-424-1700.
---