---
The Essential Job Search Companion, 3rd Edition (2010)
Order Now
$20.00 includes shipping via priority mail
By Tracy Laswell, CAREER-Magic.com
A quick, pragmatic, humorous guide to the attitudes, beliefs, and behaviors of the successful job seeker. An updated and expanded 4th edition will be completed by the end of 2012.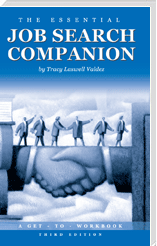 Here's what others are saying about the Essential Job Search Companion:
"This practical book shows you how to get the job you really want!"
-Brian Tracy, motivational speaker and author,
The 100 Absolutely Unbreakable Laws of Business Success.
"In a complex and chaotic world, The Essential Job Search Companion is a must-read for working adults. Tracy Laswell proves that serious job search advice can be presented in a humorous style."
-Helen Harkness, Ph.D., author,
The Career Chase: Taking Creative Control in a Chaotic Age.
"Tracy has a terrific writing style and lots of practical information. This book will make you want to pick up that phone and get those meetings."
– Kate Wendleton, President,
The Five O'Clock Club, and author of Building a Great Resume.
"I thoroughly enjoyed reading The Essential Job Search Companion – it was like getting solid advice and support from a close friend."
- J.W., Job Seeker, Denver, CO
---