---
The Essential Job Search Companion, 4th Edition (2013)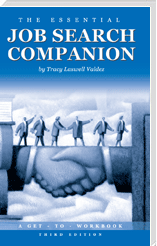 Order Now
$20.00 includes shipping via US mail
By Tracy Laswell, CAREER-Magic.com
Available now, the 4th edition is completely revised and significantly expanded with popular content from my job search workshop series,  years of job search coaching practice, and new resources. But even at 183 pages, it's still a quick, pragmatic, humorous guide to the attitudes, beliefs, and behaviors of the successful job seeker.
Table of Contents
Ch.1  Welcome to Your Job Search! Revised!
Ch.2  Job Search Definitions & Expectations Revised!
Ch.3  Cash Flow Revised!
Ch.4  Focus on Your Next Job | Get Rid of Your Big "But"  Revised!
Ch.5  Personal Branding NEW CHAPTER!
Ch.6  Résumé Magic NEW CHAPTER!
Ch.7  Cover Letter Magic NEW CHAPTER!  
Ch.8  Productive Job Searching Revised!
Ch.9  Using the Phone in Your Job Search NEW CHAPTER!   
Ch.10  Networking in Person & Online NEW CHAPTER!
Ch.11  Looking Employable Revised!
Ch.12  Informational Interviews & Interviewing to Win NEW CHAPTER!
Ch.13  Salary Negotiations Revised!
Ch.14  Job Search Skills for Introverts NEW CHAPTER!
Ch.15  How to Stay Up During a Long Drawn Out Job Search Revised!
Ch.16 Enough Reading Already… Get to Work! Revised!
Praise for the Essential Job Search Companion:
"This practical book shows you how to get the job you really want!"
-Brian Tracy, motivational speaker and author,
The 100 Absolutely Unbreakable Laws of Business Success.
"In a complex and chaotic world, The Essential Job Search Companion is a must-read for working adults. Tracy Laswell proves that serious job search advice can be presented in a humorous style."
-Helen Harkness, Ph.D., author,
The Career Chase: Taking Creative Control in a Chaotic Age.
"Tracy has a terrific writing style and lots of practical information. This book will make you want to pick up that phone and get those meetings."
— Kate Wendleton, President,
The Five O'Clock Club, and author of Building a Great Resume.
"I thoroughly enjoyed reading The Essential Job Search Companion – it was like getting solid advice and support from a close friend."
– J.W., Job Seeker, Denver, CO
---